2nd August 2015, Sunday……Day (2) Nainikhad-Khajjiar 54 kilometers. 
It was 3.30am morning. Sleep was still miles away as I was finding it difficult to sleep inside the car due to hot weather. So instead of waiting for the day to break, I decided to drive further and rest whenever I felt like.
It was still very dark when I reached Dalhousie. Pleasant weather and mist playing around made the surrounding surreal. Being the only one up there at that moment, felt quite good. Clicked few pictures and then moved on.
Named after Lord Dalhousie and situated at a height of 1970 meter ASL, Dalhousie is a beautiful hill station in Himachal Pradesh. Consisting of 5 hills and situated on the Western Dhauladhar and with snow clad Pir Panjal range running parallel, Dalhousie is popular for dense forest and cool weather.
With overcast sky, misty surroundings and brightly lit Dalhousie Public School, the drive through flower decked road to Lakkar Mandi was an amazing experience. Dark grey clouds looming large in the sky meant another rainy day.
From Lakkar Mandi I turned right and drove for three kilometers to reach at the gate of 1.5 kilometer long trek to Pohlani Mata Temple. After parking the car near army barricade at the gate, I started walking on the lonely path to Pohlani Mata temple.
It was still 6am morning and I was the only soul around. The well marked trek is almost level walk and quite easy. On a clear day, the views of Pir Panjal range are fantastic all through the trek.
Initial part of the trek was on wet cemented path. Soaked in water droplets, grass was lush green. Plants of varied category and colorful flowers were lined up throughout the trek. Mist played hide and seek and at times it drizzled in between.
Although it was beautiful and romantic yet at times, due to low visibility and loneliness, it felt bit scary too. Fear of the unknown and wild animal were my constant companion.
Yet I was loving it. It felt so good walking through lonely path, through misty lush green surroundings so early up in the morning.
See lush green grass and blooming white daisies.
The temple was just 200 meters now.
Pohlani Mata Temple engulfed in mist.
It is believed that Dainkund was an abode of a powerful witch (dain in hindi). She was killed by an incarnation of Kali Mata that arose from a stone near a lake (kund in hindi). The locals worship this incarnation as Pohlani Mata.
Temple bell and Statue of Shiva on a nearby hill
Red Man at the Red Temple.
There was no one at the temple, not even the caretaker or the priest. I prayed at the temple, sat quietly for some time, climbed nearby hills, clicked few pictures and then started slowly walking back towards Lakkar Mandi.
Had I continued I would have reached Chowari Jot, the highest point on Chamba-Chowari road after walking for about 6 kilometers. But due to the fact that I was solo and also that there was fear of wild animals due to mist, I abandoned any such thought for some another time.
Through wild scattered flowers I continued slowly walking back towards my destination.
Pretty soon the temple got engulfed in the mist again and out of my sight.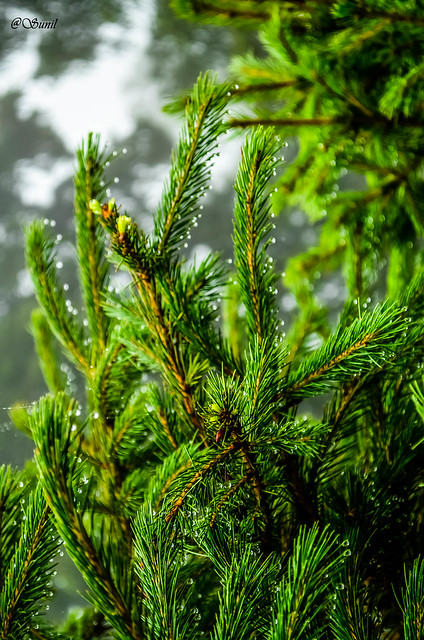 While returning back I heard wild roaring sounds emanating from the valley below, I thought, must be some wild animals roaming through the forest.
See the lush green grass and beautiful trek.
While walking down at leisurely pace I saw few bakarwals walking down with milk cans on their head.  They were the first people to meet in the morning. It was good chatting and knowing little bit about them. I saw them walking towards the gate and then ride on the bikes parked near the army barricade. They must have gone to the nearby towns to sell milk.
Sighting Lalpari is always a comforting site. While I jumped into the car, bakarwals are seen hopping on their bikes parked near army barricade overnight.
At Lakkar Mandi, I saw a little village girl playing merrily with a little goat. The goat would run and then hop back into the girl's lap again and again. It was such a pretty sight. Both the goat and the little girl were quite happy to be photographed.
Notice the diversion to the right on Dalhousie-Khajjiar road just before Lakkar Mandi. The three kilometers road from here leads to Dainkund army barricade, the point from where trek to Pohlani Mata Temple begins.
Lalpari near Lakkad Mandi
A settlement near Lakkad Mandi
After a cup of tea at Lakkar Mandi I decided to walk down three kilometers to forest rest house (FRH) at Kalatop. The walk through misty woods, lush green forest, huge deodar and fir trees was a heavenly experience.
Besides tall deodar and blue pines, there were large number of other rain soaked plants and shrubs.
Misty woods with some of my belongings
Beautiful misty woods on the way to FRH, Kalatop.
Woods are lovely dark and deep……
A Shivling on the way to Kalatop.
FRH Kalatop
FRH Kalatop lies in Kalatop Khajjiar Sanctuary. It has a dense deodar and fir forest. Pheasants, serow, black bear and leopards are some of the common animals found in the sanctuary.
Although I had been to Kalatop many times in the past yet this time it was pretty good. It was mist, cloud and drizzle all the time. Grass was greener than before and so was the growth of plants, moth and many varieties of flowers.
Walked back to Lakkar Mandi and then drove down to Khajjiar. In the mist, clouds and lush green grass Khajjiar looked freshly bathed and fantastic. It had a good Sunday crowd. Had good time with some boys from Delhi in the evening.
Parked the car in the parking area and tried sleeping inside and for the second time in a row, could not sleep well as it continued raining throughout the night. There was lot of suffocation inside the car as well……..!!!
Map of the route followed for the day.